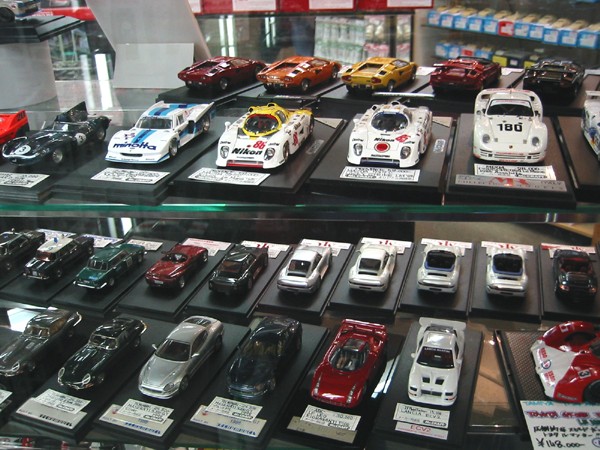 Hobby Shops in Strange Places XVII:
Mr. Craft in Ebisu, Tokyo, Japan
(And you thought it was going to be in Namba, Osaka, huh?)
Text by Neal Izumi, photo be VEB
Location: Tokyo, Ebisu. This place is so close to Ebisu Station on the Yamanote line, if you trip at the bottom of the escalator, youíre in the store. Open weekdays noon to 22:00, holidays from 11:00 to 22:00.
Description: Mr. Craft specializes in car models and accessories, and boy, they donít fool around! There are dizzying amounts of car decals on several display racks. Resin car models line one corner of the shop. Wheels, seat belt harnesses, and other aftermarket goodies seem to be everywhere. Car-related memorabilia is also for sale in the car section. This store had the most car model stuff out of all the shops we visited on this trip. There exists a car specialty hobby store called Hobby Garage Romu in Osaka, but we were unable to check it out.
The store actually carries all kinds of hobby stuff; toys on the ground level, models on the second level, and R/C stuff on the third level. The selection of model kits is pretty good overall. However, there is little in the way of non-car related garage kits.
Pros: A must-see for any car model nut. The displays are great fun to look at, even if you donít build cars. A good selection of kits from other genres are in stock too.
Cons: You might consider leaving the car modelers here while you complete your shopping circuit around the Tokyo area. There is a lot to look at, and that means a lot of "look and see" time will be needed by the scale autophile.
Analysis: The best car specialty hobby store we visited.