</P>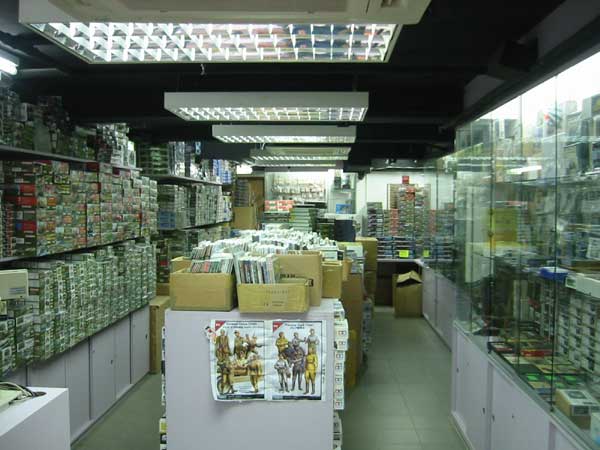 Hobby Shops in Strange Places XXII-Hong Kong!
By Valentin Bueno
Hong Kong, the shoppers paradise on earth. The center of great Chinese food, 8 modes of transportation and the place where all things man made can be found. In Hong Kong (HK),similar businesses tend to be located together. Electronics all together in one district (Sham Sui Po), jade jewelry in another (Yau Ma Tei) and of course hobby shops (also Yau Ma Tei).
Yau Ma Tei
Five of the seven shops I went to HK to look for were located in YMT. And, not surprisingly, so were a whole bunch of others. Unfortunately, I was unable to really explore the area due to time constraints, but I'd be willing to wager there were more shops hidden in shopping arcades in the buildings near the ground floor stores I went in to.
Shops in the YMT area include: Wang Kee, Wailee, Tri-Star and Ying Ming. All these stores with the wonderful exception of Tri-Star were pretty much the same. The had lots of cheap plastic kits with the majority of the kits being Gundam style kits with a small mix of armor, aircraft and ships. They didn't have anything I couldn't get off of the internet.
In addition to the static plastic model shops, there were dozens of R/C and air soft gun stores. More air soft gun stores than anything else.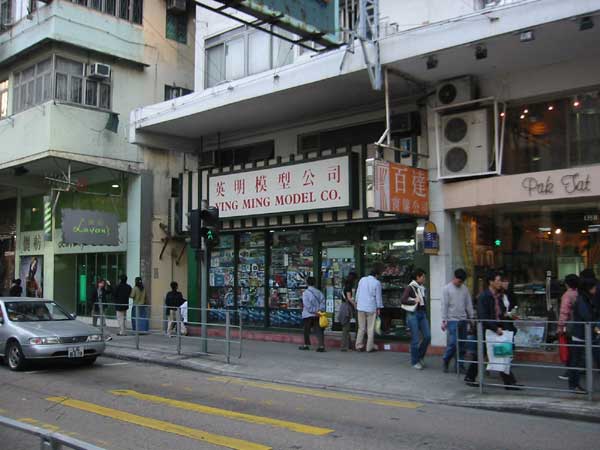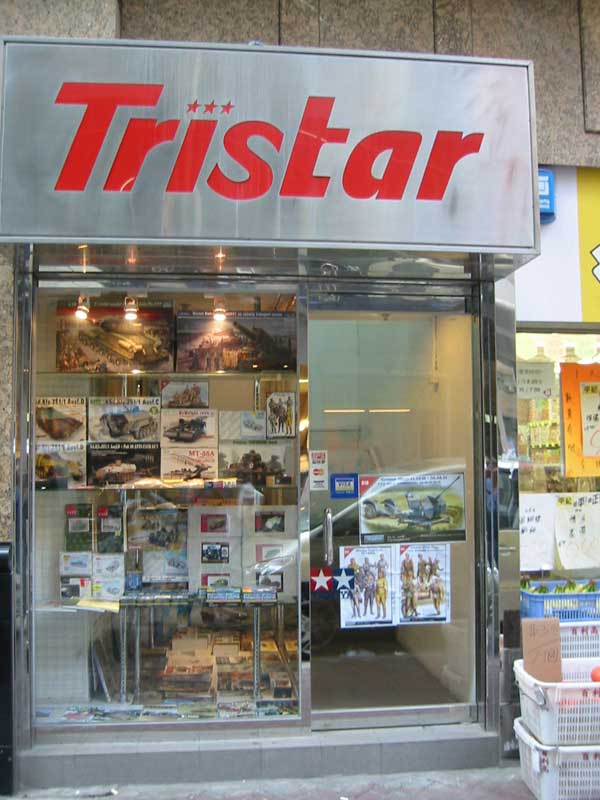 Tristar
The exception to this blandness was Tristar. This is the same Tristar that makes great armor and figure kits in injection molded plastic in addition to a line of armor decals. After visiting the shop, I can see why. These guys are the armor headquarters of HK. They had dozens of Accurate Armour and Verlinden resin conversions, tons of the latest Trumpeter kits (armor, aircraft, and ships), and a very nice book selection. I had the opportunity too pick up the latest Xtreme Model magazines at this store, something I don't even do on the internet. They had books in many languages as well, German, English, & Japanese. When I return to HK, I'll know where my first stop will be!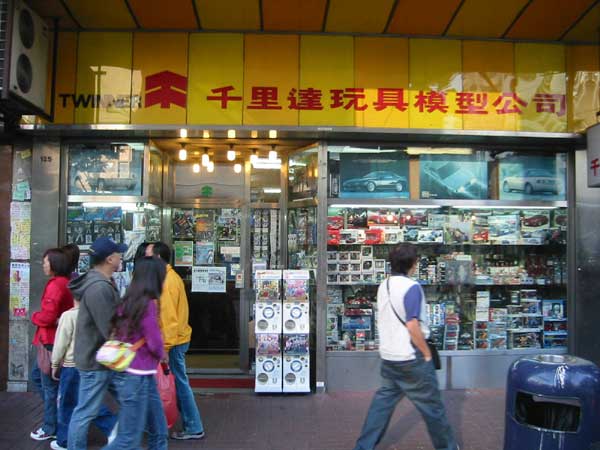 Mong Kok
The area known as Mong Kok is just one subway stop north of YMT. In this area are three more hobby shops. Two of them are right outside of the Mong Kok KCR (Kowloon Canton Railway) station, Twinner and Ying Ming. These two share the same problem the other five in YMT suffer, all the normal mainstream model kits in these two stores along with a smattering of the Japanese Gashapon toys.
The main hobby shop to visit in Mong Kok is Universal Models Limited on the corner of Dundas Street and Nathan Road (the main shopping drag in HK, see photo below).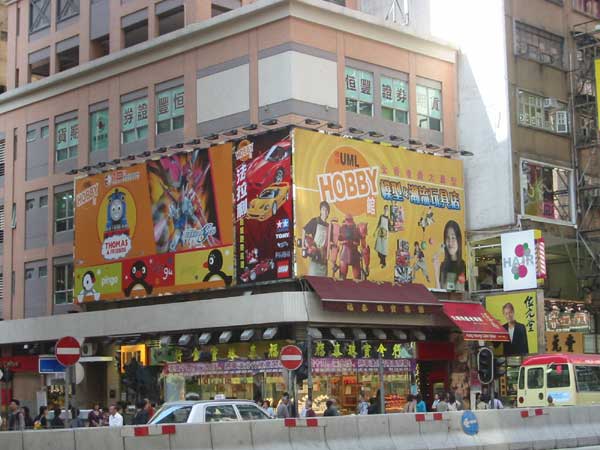 This store opens at 11:00 and you go in through a small door on Dundas Street that is lined with gashapon machines. Up the stairs and you reach the toy floor. RC toys, trains sets, more gashapon. I wished I could have spent hours on that floor, but the plastic models upstairs were calling to me (that and I didnít want my lovely Girlfriend see me drool).
Up a second flight of stairs and you are greeted by the neatest arrangement of plastic model kits I have ever seen. Every kit is stacked neatly in the shelves and along the walls. The latest Dragon release will be the parts trees tacked to a black board on the far side of the wall. Howís that for product placement! The kits selection was very good with many aircraft, armor and ship models of all types. Cars and Gundam were there as well, but you will find more Gundam kits on the first floor.
UML also had a decent selection of Tamiya paints and tools. Nothing in here was indigenous to HK or China, other than the Dragon kits.
I apologize for not taking a photo inside the store; the employees said I would have to call the main office for permission to do so. Oh well.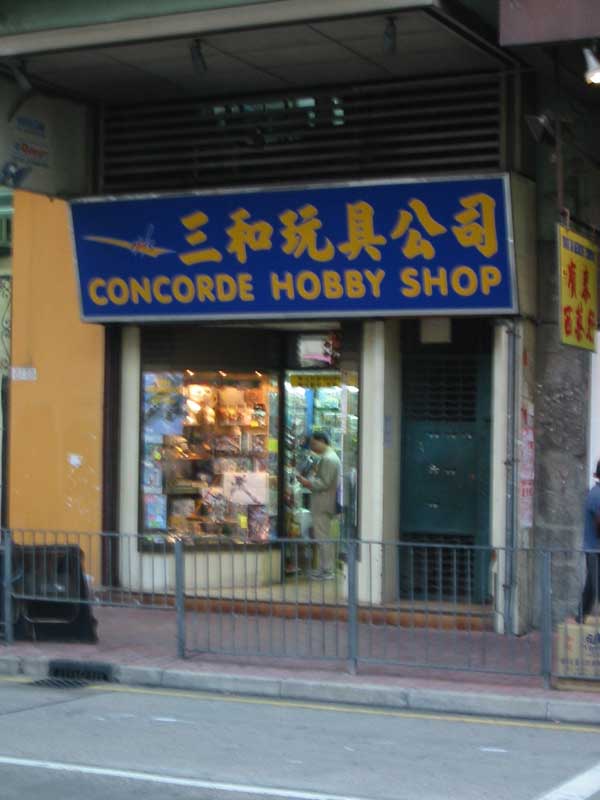 Sham Shui Po
One solitary hobby shop exists north of Mong Kok in Sham Shui Po near the Dragon Center Shopping Mall, Concorde Hobby Shop, G/Fl No 331 Lai Chi Kok Road, Sham Shui Po. My girlfriend and I had just left the Dragon Centre and jumped on a double-decker bus to catch the Star Ferry when she whacked me on the arm and pointed out Concorde HS to me. What would I do without her?
On the following day when we returned to the area looking for computer equipment, I took some time and visited the shop. I walked in and was amazed at how stuffed the store is. Boxes and boxes of old and new modeling books and magazines filled the entry way. Glass cases filled with expensive toy busses and trains forced me to walk sideways into the plastic model section. Here I found old and older plastic aircraft and armor kits. Turning 180į, I found the ships and car section.
The newer kits were towards the tiny cash register desk. A stair well in the back beckoned me up stairs to the filled to the brim train section. HO and N were all my eyes could focus on. I nearly tripped on more boxes filled with train magazines and books. My heart soared as my wallet groaned. It took me a good half hour to finally choose a mook from the front area to purchase. I wish I could have bought more, but my luggage was already overstuffed with DVDís as it was.
As an aside, if in HK and you are looking for cheap DVDís, check out Sino Centre for Anime and Argyle Street for DVD movies.
1.Universal Models

Nathan Road

2.Wang Kee

Waterloo Rd

3.Wailee

Kwong Wa St

4.Tristar

33 Yin Chong St

5.Sunny Models

Kwong Wa St

6.Twinner

127a Sai Yee St

7.Ying Ming

135 Sai Yee St

8. Sino Centre (Anime DVDís)

Nathan Road

9. DVD Movies

Argyle St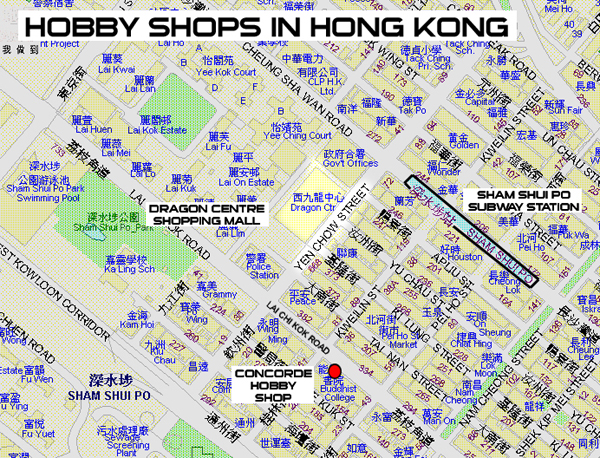 Concorde Hobby Shop
G/Fl No 331 Lai Chi Kok Road, Sham Shui Po