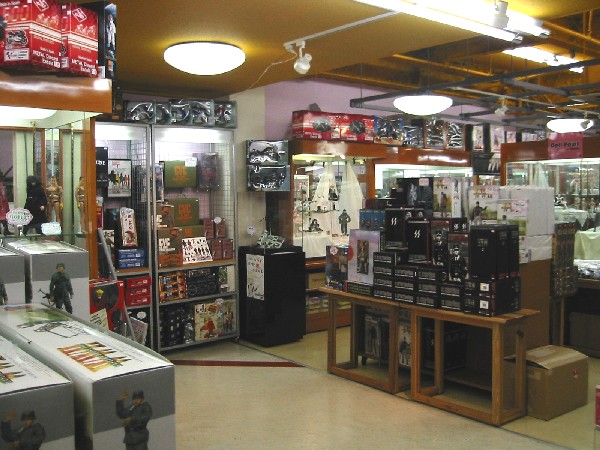 Hobby Shops in Strange Places XVI:
Volks Shop in (you guessed it) Namba, Osaka
Text by Neal Izumi, photos by VEB
Location: Osaka, Namba (Nihonbashi) across the street from hoBix near McDonalds
Description: Volks occupies the top two floors of a four-story building. It is a nice shop with extensive display cases featuring built-up models. Plastic and garage kits, tools, books and toys are on the third floor. No scale models here, only anime / sci-fi stuff. The entire fourth floor is devoted to 12" action figures. Very complete selection of 12" military figures from DML and Ultimate Soldier, as well as some lesser-known manufacturers like Drastic Plastic and Hot Toys. Lots of "girlie" figures and fashion accessories like clothing, footwear, heads, and generic bodies with several bust sizes to choose from! Military-minded customers can buy weapons and uniforms ala Carte from their extensive DML accessory selection. Prices are retail for most items.
Pros: This is the place for 12" figures, if that is your thing. This is the only store that carries Volks' ceramic seam scraper, which is intended to clean up molding lines for their generic bodies (but has obvious applications on models of other genres as well). Also, McDonald's is on the ground floor, with dining on the second floor. Shop and dine, shop and dine.
Cons: Retail prices. May be hazardous to your wallet, if you are into figures.
Analysis: The best 12" figure selection of all the shops we visited.