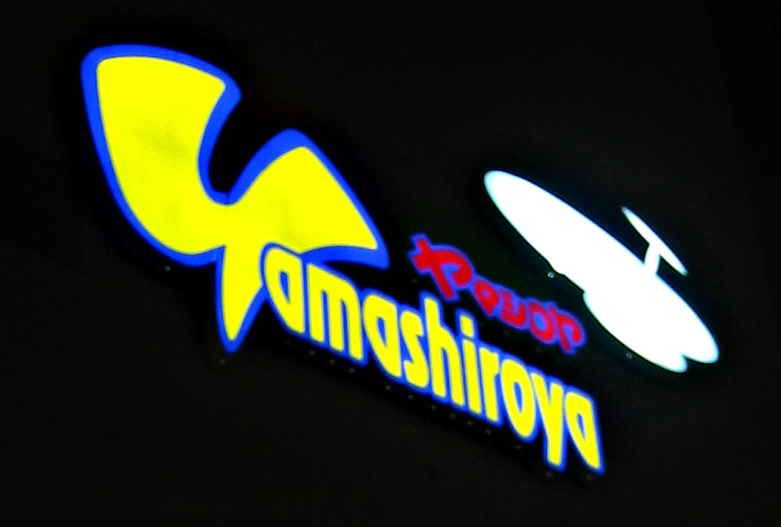 Toy Stores in Tokyo
By Valentin "I think Iím turning Japanese" Bueno
Frustrated at not finding a dedicated hobby shop in Tokyo, Japan I started reading the floor-by-floor descriptions of 6 story tall toy stores that I happened to pass by. Sure enough, on the fifth or sixth floor were the characters L Z S C Y "PuRa MoDeRu" or plastic models. I then dragged my poor girlfriend and her 72-year-old Godmother up several flights of tiny stairs in pursuit of the gold that make up your hobby and mine, plastic model kits, books and accessories.
I had an opportunity to visit two such multi storied toy stores: Yamashiroya near the Ueno JR Station and LAOX Hobby near the Akihibara JR Station.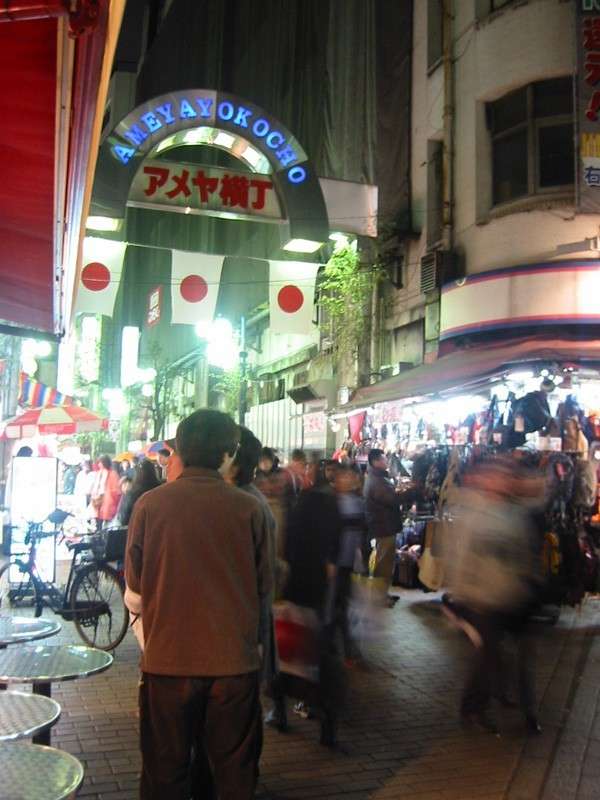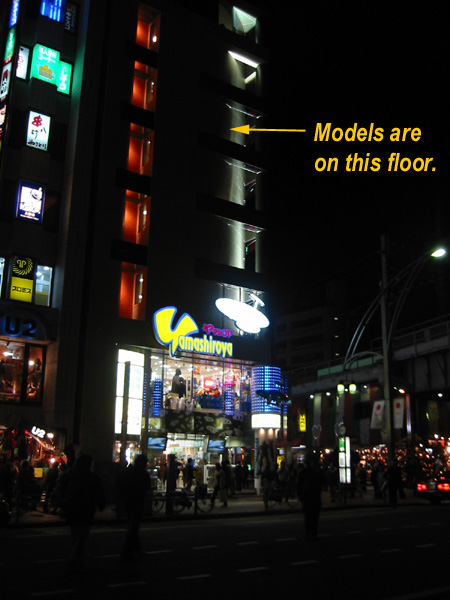 Ueno JR Station in Taito Ku, Tokyo
I first visited Yamashiroya back in 1996 on my first visit to Japan. I had just come from the best armor model shop in Japan (MG Shop which is no more) and was looking for a Japanese Barbie for my motherís collection. As I searched the store for the doll section, I came upon the model section. Needless to say, my search stalled for about half an hour. They had the entire floor dedicated to modelling of all types, military, car, R/C, Gundam, and Anime. They also had a decent selection of tools, magazines and books. Imagine The Pacific Hobbyist squeezed into a space the size of Wellerís Hobbycraft with cute Japanese girls behind the counter. And these girls seemed knowledgeable about whatís in stock and when an item is coming out. Of course that is based on my coarse Japanese and their limited English. I showed them a picture of what I was looking for and they understood. Everything closes around 8:00 in the evening, so plan your Hobbyshop hunting accordingly.
If you donít want your significant other watching what you buy at Yamashiroya, let them wander around the Ameyayokocho shopping district. Ameyayokocho has everything from dried fish to expensive wallets. Itís the like Chinatown and the Aloha Stadium flea Market combined into one and pushed under the tracks of the JR Yamanote line. If you plan on bringing Omiyage back home, this is the place to get it. Ameyayokocho (or Ameyoko to the locals) is enormous. If you finish shopping early (ha ha!) and feel like searching for your other half in the crowd, DONíT! You will get lost. On my last trip we brought Walkie Talkies to communicate with each other. No roaming costs for cell phones to worry about. Your significant other is happy, youíre happy and all is right in the world. You could also let the wife and kids roam about Ueno park. During the summer the zoo is open and is rather impressive. Itís the green area next to the red station in the map.
Yamashiroya is right at the front of this area, just across the street from the main entrance of Ueno JR Station. The entrance to Ameyoko is just to the right of that if you are facing the store with your back to the station.

Akihabara JR Station in Chiyodo Ku, Tokyo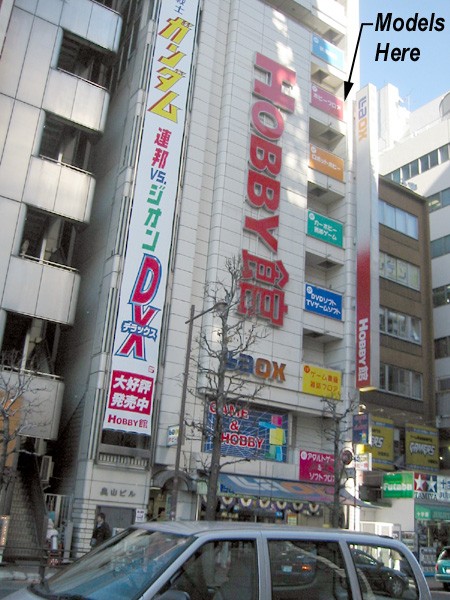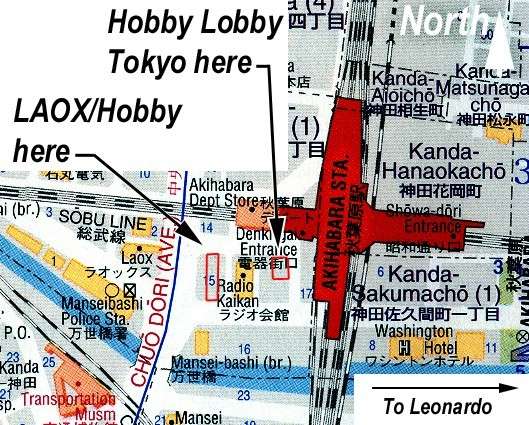 The area around Akihabara Station is THE electronics goods area of Tokyo. Radios, TVís DVDís, video games, phones and more are all here on display for you to try and to buy. There are several hobby shops (mostly resin figures of anime characters) but the one I discuss here is the LAOX Hobby store. LAOX is a major franchise of electronics goods and is very prominent in the Akihabara area. The LAOX Hobby store is very similar to Yamashiroya in selection. They have a goodly amount of kits, books and magazines. Itís a good place to stop to get the old model hunting juices flowing before trekking on over to nearby Leonardo (see last monthís HSISP XI) or searching out Hobby Lobby Tokyo (which I never did find).
You will notice the large Tamiya logo in the lower right corner of the photo. That is a very small R/C shop. Due to my Static Plastic prejudice, I did not look too closely at the R/C Shop.
To get here, exit Akihabara JR Station from the south exit heading towards Kanda gawa (River) Head straight for the main road and turn right. LAOX Hobby is only three buildings to the right from the station exit.

Kichijochi JR Station in Nakano-Ku, Tokyo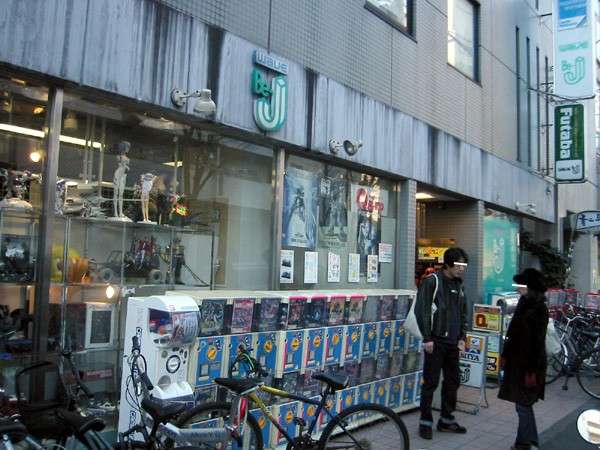 Be-J Wave is not a toy store, but it might as well be. Granted, Gundam type models arenít toys, but for the military/vehicle modeler they might as well be. When I fist visited this store back in 1996, it was a real manís Static Plastic model shop. It had a massive armor, aircraft, ship and car sections along with the more esoteric accessories to go along with it. They also had an extensive range of larger scale resin anime resin/vinyl kits stacked along the walls. The second floor was filled with all sorts of tools and raw materials.
Unfortunately that has all changed to allow the store to survive. R/C. electronic and Gundam kits fill the store. Not a single aircraft, armor, ship or car (other than R/C) static plastic kit was to be found in 2002. The Anime resin figure kits filled a small section behind a locked glass case. The tools and raw materials section had shrunk and was brought to the first floor. The second floor had given way to the R/C and die cast car crowd. They still had some very high quality built up models on display in the various showcases scattered about the first floor.
This is still a good place to visit if you like Gundam models. Well worth the trip just to get away from the hustle and bustle of downtown Tokyo. To get here, exit the Kichijochi Station and heard north across the bus terminal lot. Walk along the main road until you hit a T-intersection. If you didnít pass a Mitsukoshi Department store on your right, you might want to check your compass again. Turn right at the T-intersection and proceed a few blocks (I donít remember how many off hand) until you see Be-J on your left. Easy, no?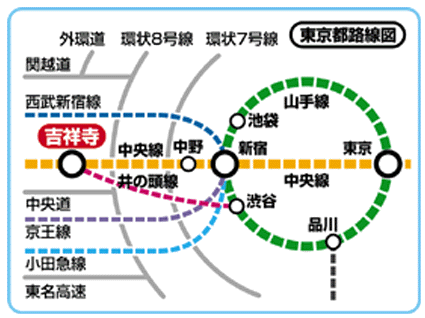 The Orange line is the JR Chuo Line, the Green circle represents the JR Yamanote Loop Line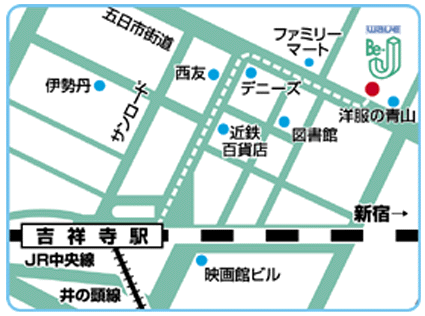 Just follow the white dotted line. (Dotted line not actually on sidewalk.)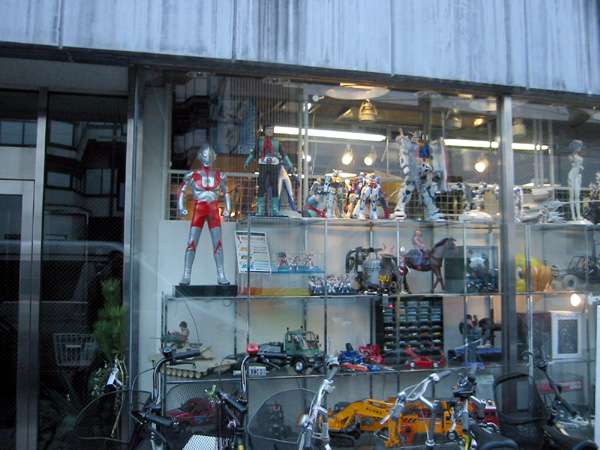 The storefront display. This pretty much is indicative of whatís inside the store.