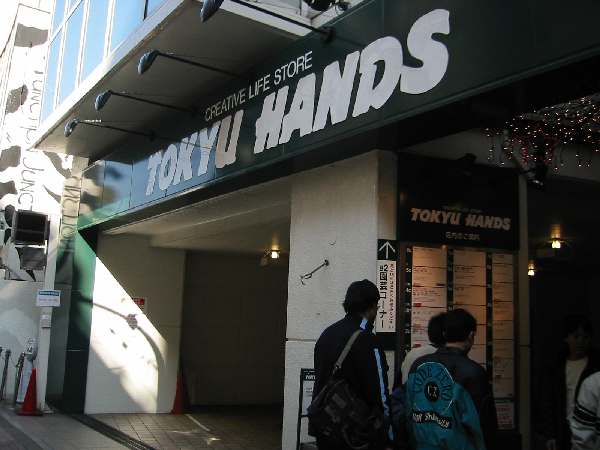 Hobby Shops in Strange Places XIX:
Tokyu Hands, Shibuya, Tokyo
By Neal Izumi, Photo by VEB
Location: Tokyo, Shibuya
Description: Tokyu Hands is a department store which is dedicated to all things to do with "handy" stuff: metal and woodworking, arts and crafts, interior decorating, and yes, modeling. The model section is up on the fifth floor, and carries all genres of model kits. They also stock a number of toys, including die cast pre-finished aircraft and cars. The die cast models seem to be aimed at collectors rather than children, as most are high quality (i.e. expensive) merchandise. A 1/18 scale Lotus Esprit S1 and a 1/48 scale B-25 Mitchell bomber were among the more interesting die cast models we saw. They carry a very nice selection of figures and landscape materials for the dioramist. Although they do not stock photo-etched detail sets, they do sell complete photo-etched models (Ala Eduardís "Strip Down" series). The paint and tool selection are also quite complete. Prices are 10% off for most items.
Pros: A really fun department store to wander around in. Good selection of kits, tools, paints, and diorama accessories. The hand tool (hardware) section has a lot of useful modeling items, like small metal rulers and squares.
Cons: The elevator is slow. Really slooooooooooooow. There is a wide stairway leading up to the top floor, but be advised that there are sub-floors for each level; i.e. level 5, level 5a, level 5b.
Analysis: A neat place to just wander around in. Exploring the other levels will probably yield unexpected finds.
Note: There are some woods that are not allowed in the US. I (Val) was tempted to buy some nice wooden bases, but because I couldnít remember what woods are not allowed in the US, I bought none. These woods are not allowed in the US due to certain microorganisms that the Feds donít want immigrating into the US. So please take care with what you buy.