Hobby Shops in Strange Places XIII:
Hobby Shop Asuka in Osaka, Japan
Text by Neal Izumi, Photo by VEB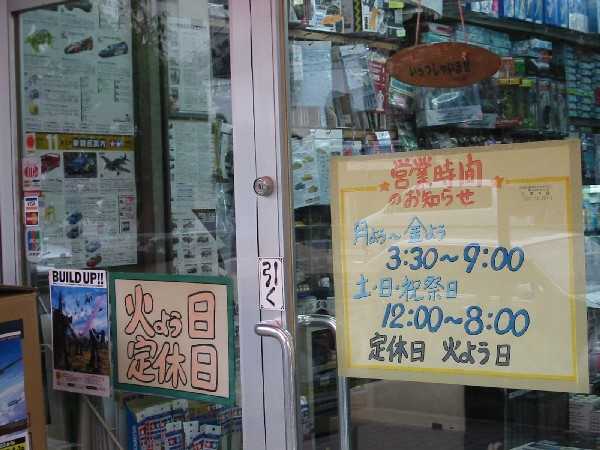 Location: 1-11-2, Morinomiya-cho, Chuo-ku, Osaka,540-0003, Japan: Ph 06-6946-8445
Hours: M, W, R, F: 3:30 pm to 9:00 pm
Sat, Sun: 12:00 pm to 8:00 pm
Closed Tuesdays
Description: Large quantities of plastic models of all genres crammed into a medium-sized store, all stacked into a solid mass, separated by non-ADA compliant aisles. This store is a classic textbook example of how the Japanese can make the most out of limited floor space. They have a small amount of resin and metal aircraft, armor, and car kits, as well as some unusual decals. Prices are retail.
Pros: Good selection of kits. While most stores stock only what is current, Asuka has a lot of desirable older kits as well. Prices of the older kits are not marked up.
Cons: If you are really fat (think Val size and larger), consider losing some weight before visiting.
Analysis: A great example of a traditional "normal" Japanese hobby shop.